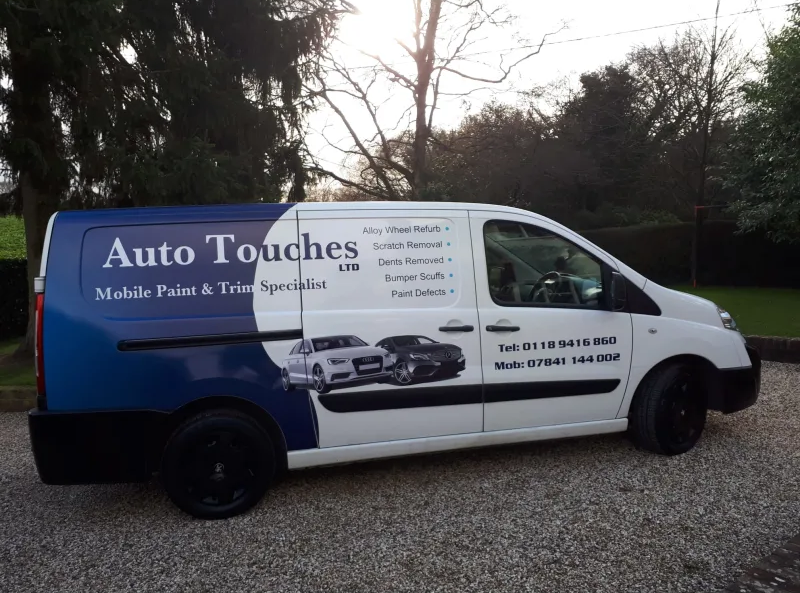 First Class work - competitive Prices
At Auto Touches, our message is simple: First-class work at the most competitive rates in the market. For nearly 30 years, we have provided a reliable and fast service to new and existing customers in Berkshire, Hampshire and surrounding regions.
Our family-run business prides itself on professional bodyshop-quality work, and whats's best is that you won't need to bring your car to us.
Reliable - Local - Mobile
Let us come to you and we guarantee same-day repairs.
Full professional mobile car body repairs at excellent rates!
Most of our work is under insurance excess cost.
Repairs at your home or workplace at your convenience.
All work guaranteed.
Ford, Vauxhall, Peugeot, BMW, Mercedes, Porsche, Range Rover and many brands are repaired on a daily basis by our skilled team.
Retail, Corporate, Leased, fleet and Commercial vehicles welcome.
Free no obligation quotes.
Reliable local smart repairer. We come to you. Alloy Refurb. Scratches. Scuffs. Dents. Polishing.NHS Discounts. Free quotes. Fully insured All work guaranteed.
Mobile car body repairs, Wheel repairs, Alloy wheel refurbishment, Bumper Scuffs, Bumper repairs, Plastic welding, Plastic trims, Car body repairs, Car scratch repairs, Paint defects, Car spraying, Colour coding, Dent repairs, Mechanical polishing, Mirror housings, Paint repairs.