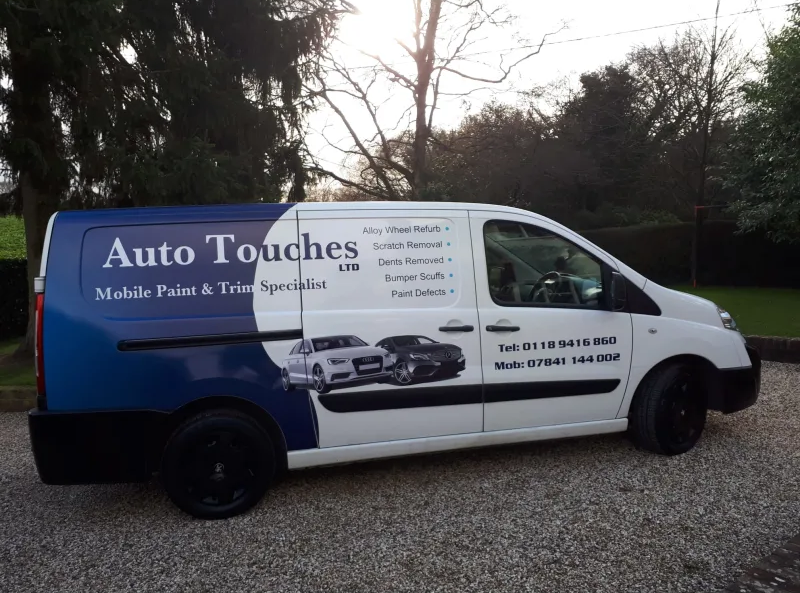 First Class work - competitive Prices
At Auto Touches, our message is simple: First-class work at the most competitive rates in the market. For nearly 30 years, we have provided a reliable and fast service to new and existing customers in Berkshire, Hampshire and surrounding regions.
Our family-run business prides itself on professional bodyshop-quality work, and whats's best is that you won't need to bring your car to us.
Reliable - Local - Mobile
Let us come to you and we guarantee same-day repairs.
Full professional mobile car body repairs at excellent rates!
Most of our work is under insurance excess cost.
Repairs at your home or workplace at your convenience.
All work guaranteed.
Ford, Vauxhall, Peugeot, BMW, Mercedes, Porsche, Range Rover and many brands are repaired on a daily basis by our skilled team.
Retail, Corporate, Leased, fleet and Commercial vehicles welcome.
Free no obligation quotes.
Reliable local smart repairer. We come to you. Alloy Refurb. Scratches. Scuffs. Dents. Polishing.NHS Discounts. Free quotes. Fully insured All work guaranteed.
Mobile car body repairs, Wheel repairs, Alloy wheel refurbishment, Bumper Scuffs, Bumper repairs, Plastic welding, Plastic trims, Car body repairs, Car scratch repairs, Paint defects, Car spraying, Colour coding, Dent repairs, Mechanical polishing, Mirror housings, Paint repairs.
Alysha Williams
2022-06-27
Nigel was absolutely amazing with repairing my car. Kept me updated via e-mail, and was so kind and professional. My car looks amazing now, and all for a reasonable price too! Thank you so much again Nigel, you made an experience that I thought would've been difficult, so much easier😁
Nigel and his son did a cracking job of making my Dad's Bently look amazing again. They got rid of a huge amount of stone chips on the front bumper a d removed some rust that was starting to form on the lower front wings. Worked on it over the Jubille BH's and were very punctual. Cheers gents.
Scuffed my gunmetal gray alloy wheel on the kerb (only picked the car up that day). Contacted Nigel. He fitted me into his schedule came to my home and repaired the wheel. Did a superb job. Highly recommend this company.
I cannot recommend Auto Touches enough! Nigel did an amazing job on my Qashqai, which although has a pearlescent paint finish, after the job was done, the deep scratches to the bodywork have gone. This is especially important as it means no expensive respray is necessary. And being mobile as well, just added to the convenience. Thanks for a brilliant job! Really pleased.
Nathan McKeverne
2022-04-26
Nigel was excellent. He was prompt and polite. He repaired some early rust on my door as well as fixing some chipped paintwork on my door handles. All for a very reasonable price. Would absolutely use again and recommend to others.
Nigel did a thorough job on my Audi Bumper. I had some deep scratches in the rear bumper after being scraped by another car in a supermarket carpark. He matched the paint perfectly. Once the work was complete, he even tested the parking sensors. Great attention to detail, you can't tell the accident happened. Nigel even took all the rubbish away. Having the car fixed at home is so much more convenient than dropping it off at a paint shop. I would recommend Nigel's company Autotouches.
Jonathan Smith
2022-04-04
Nigel is an absolute gem. I got a knock on the car a week before it goes back to the leasing company. Nigel came out the day after I contacted him and sorted the paintwork. A quick call to one of his contacts has the dent being fixed before it goes back. Huge relief. Professional, highly experienced, high quality and very good value. Would highly recommend.
Sophie Britton
2022-04-01
I had scraped and dented my rear wheel arch, back panel and door. Nigel was able completely transform the damage and the car looks good as new. The plastic wheel arch trim was badly scraped too and this was sorted too. Nigel worked efficiently and came out to us to do the work. Really pleased with the work that has been completed and would highly recommend to others.
Highly recommend Nigel to anyone looking for a honest, prompt, reasonable and skilful tradesman to repair dents, scratches, alloy scuffs etc. I know Nigel for 8 years now and has been fixing lights scratches, big dents on multiple lease cars I drove during this period. Never let me down ever.
Nigel came to repair the rear bumper on my BMW 1 series. He was extremely professional and did a perfect job of touching up the scrapes after I reversed into a bollard. It looked absolutely perfect when he finished and there was no way anyone would have known it had been damaged. It looked like it had just come out of the showroom. I would highly recommend them to anyone. Perfect job.